1st Dean
1993-1996
Pn. Bibi Aminah Abdul Ghani (Memangku)
2nd Dean
1996-1997
Datin Sh. Mariam
3rd Dean
1997-1998
Prof Dr Shawaludin Anis
4th Dean
1998-1999
Ascc. Prof Dr Jamali Ismail
5th Dean
1999-2005
Dr. Mahanita Mahathir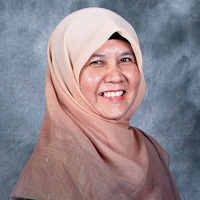 6th Dean
2005-2007
Asocc. Prof. Dr Norsiah Fauzan
7th Dean
2007-2011
Prof Madya Dr Soubakeavathi Rethinasamy
8th Dean
2011-Dec. 2016
Asocc. Prof Dr Norazuna Norahim
5th Dean
1st March, 2017-present
Prof Dr Ambigapathy Pandian
Greetings to all and welcome to this virtual site of the Faculty of Language and Communication (FLC) UNIMAS.
The faculty was officially established in 2016 (formerly known as Centre for Language Studies) further complements the university's vision in its endeavour to become a scholarly institution of choice for both students and academics through the pursuit of excellence in teaching, research and scholarship. Bearing in mind the significance of learning languages both second and foreign in developing our students' competence and competitiveness, the centre is progressive in its efforts to consolidate current courses offered, mainly the English, Malay and foreign Language courses. These courses are designed for our students with an aim to improve current proficiency levels, learn new language(s) and develop knowledge and skills relevant to language development.
In informing innovative teaching and learning actives at the centre, research efforts have been stepped up and is significant in efforts to encourage scholarship among the academic staff. Various research activities have been undertaken and are on-going as showcased in our research section. We also welcome research collaborations and joint ventures from interested individuals and organisations in the fields of language, linguistics and literature.
Take some time to browse through our site and see what we have to offer you in terms of academic pursuits and research advancement. If you have any queries, please do not hesitate to contact us.
"Welcome, Selamat Datang, 欢迎, வரவேற்பு, Bienvenue, ようこそ, أهلا بك, Selamat Datai"